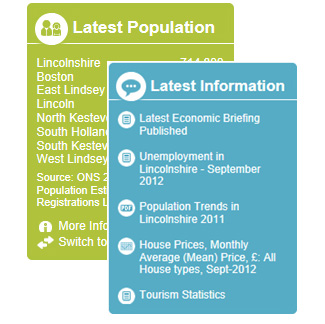 Providing a Seamless Approach to Data Provision
Managed by the Research and Information Team at Lincolnshire County Council, the past few years has seen the level of service continued to develop, becoming an ever increasingly valuable resource for the LRO partnership.

The LRO service moved into a new phase, with a plan to provide the partnership and general public with a seamless online approach to data provision. The challenge to develop a software solution that made the very complex process of loading, analysing and presenting statistical research information to 'occasional users' as straight forward as possible.

The new database had to integrate with existing platforms and deliver a single central 'hub' helping partners to access and use data as evidence to improve their local areas and services. The new service had to provide the LRO Team with an efficient content management system (CMS) and user group based permissions to control which users can see what information.

The new website had to provide an intuitive and easy to access service for the general public, providing a content rich source of information and research about working and living in the county of Lincolnshire.
Our Approach
One of the key first steps was to fully understand the role of the LRO and each partner organisation. We explored the many different sources of data and understood the different needs of each user group.

Breeze developed a single SQL Server backend database and data driven Geographical Information System (GIS) website, delivering rich user content and associated data analysis tools (mapping, local area profiles, etc).

Data loaded onto the SQL Server database at a lower level (i.e. Census Output Area) can be aggregated by system Administrators to create higher level data (i.e. Local Authority) reducing Administrator workload.

We considered end-user needs at all stages during the development phase and enabled the LRO Team the flexibility to explore their own needs during the build of their bespoke database application; allowing Breeze to combine complexity and efficiency with ease of use.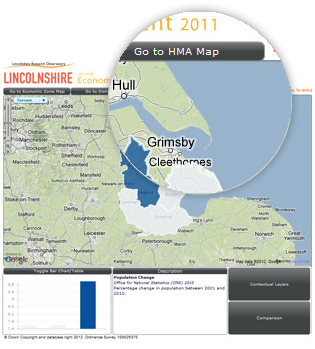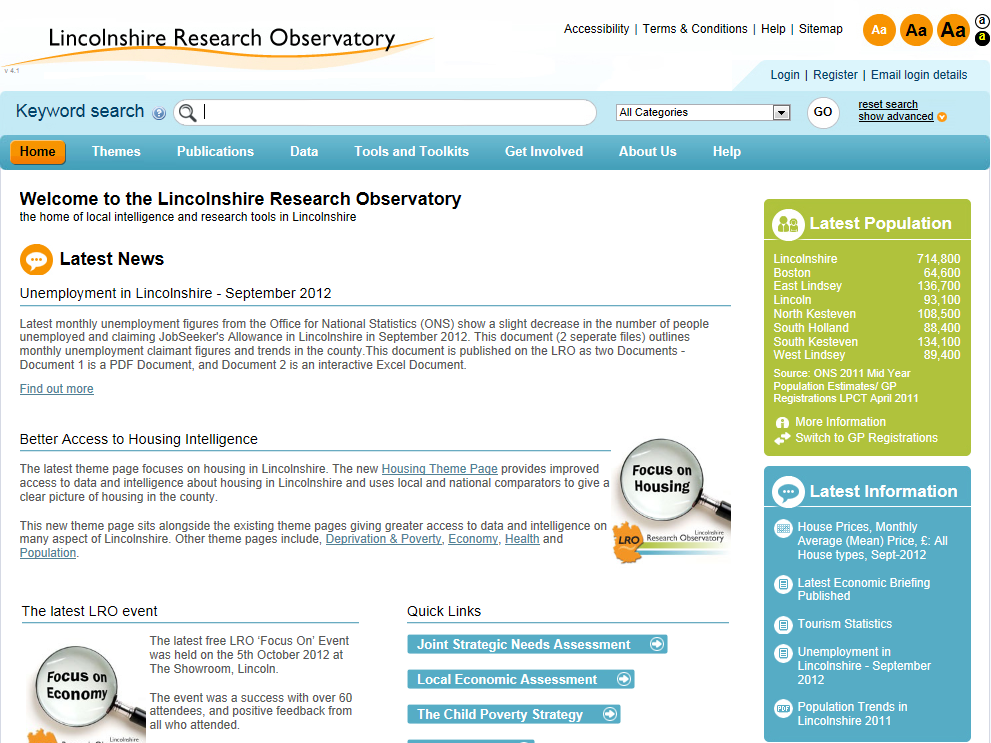 The Results
The new LRO database and website platform comes with its own Content Management System (CMS) to allow pre-defined users to easily create and edit their own web pages. Users can also publish news items and documents through the web enabled software.

With over 1,000 intelligence reports and 2,000 datasets, key information on a range of local issues, intelligence on the population, health, the economy and many other topics are available. The visual experience has been enhanced with interactive mapping and tools, together with interactive versions of important documents such as the Local Economic Assessment and Joint Strategic Needs Assessment.

With a robust shared evidence base, the LRO Partnership continues to develop their information and intelligence for the future, essential for service planning, targeting of needs and effective for future policy and decision making.